DTE IS DEDICATED TO CREATING ENVIRONMENTALLY FRIENDLY WOODEN PACKAGING
We never run out of woods
At DTE, we manufacture exactly the wooden packaging you need. It's that simple.
Nevertheless, we would like to elaborate. We see it as our duty to spread the use of sustainable and reliable packaging solutions made of wood. It makes no difference to us whether you need a standard pallet, a takeaway box, or to transport a wind turbine blade – wood is not only environmentally friendly, it is also a pleasant and accommodating material to work with.
This means that you can get exactly the solution that suits your needs.
At DTE, you can expect a visionary service when and where you need it. We'll never claim that you can't live without us, but it's okay if you end up feeling that way!
seamless
day-to-day business
Pallets may not be the lifeblood of your production. But perhaps an artery?
Logistics and process optimization are on the C-level's agenda in all production companies. But how often are pallets and packaging a topic of conversation in the boardroom?
We know that packaging and transport are critical to your business. Regardless of your logistics chain and product, we provide sharp advice so that you are always sure of getting the right packaging for the right purpose. As quickly and smoothly as possible. Because the day the packaging doesn't arrive, production slows down – or stops altogether.
Our goal is to be at the forefront of your needs as a customer and ensure your ability to deliver. That's why we offer day-to-day delivery on most products – even on large, complex orders. We believe that our responsibility extends all the way to our customers' customers. For us a late delivery is not a delivery – and that's our mantra.
And that is precisely why we put all our efforts into being a reliable partner. Because we know that our ability to deliver is critical to your ability to deliver. So, if you hear that we've hastily delivered a thousand extra pallets late on a Sunday, made it easy to export machines to an entire factory, or have specially packaged a complete scheduled aircraft part by part – you've heard right.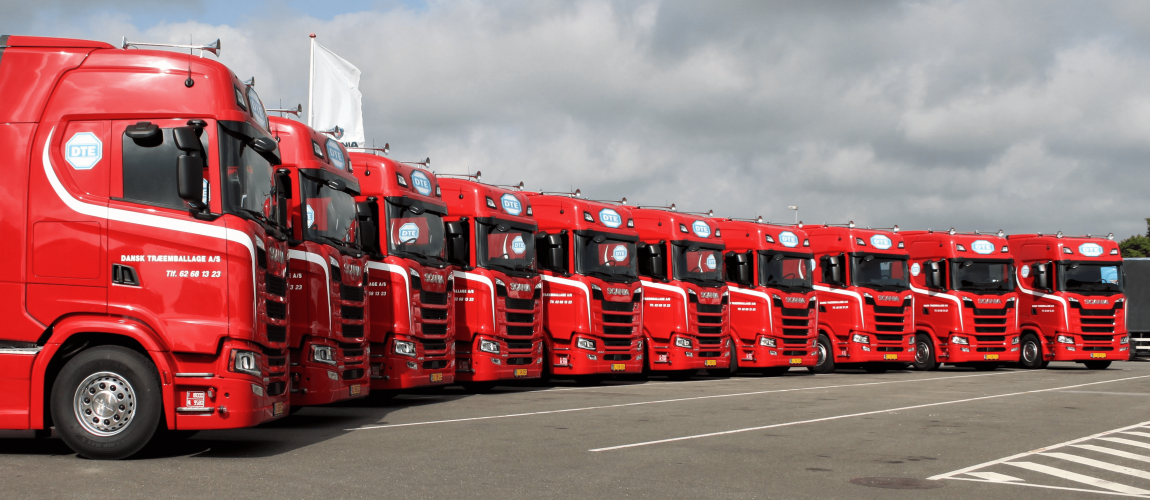 A conversation is always a good starting point for a good collaboration. That's why you'll always deal
with a real person when you call us up, and why we always put you directly in touch with the specialist you need. Why? Because that's when you get the answers you need faster, meaning you can get on with your working day.
For example, we can plan and calculate the price of most transportation boxes while we talk on the phone. You'll receive the price by phone, and you will receive the plans by email together with a 3D image. For most other products, you can also get a price instantly. If you need us to come by and take a closer look at your task, we're always nearby. With several production sites well distributed throughout the country, it never takes us long to be at your service.
DTE Haastrup
Banevej 3, Haastrup
5600 Faaborg
Telefon +45 62 68 13 23
DTE Stampen
Anne Juels Vej 10, Flauenskjold
9330 Dronninglund
Telefon + 45 98 86 15 11
DTE Brande
Fynsvej 2
7330 Brande
Telefon +45 97 18 28 00
DTE Ribe
Stampemøllevej 8
6760 Ribe
Telefon +45  75 42 37 11
Savværk
Ørstedsvej 71
6760 Ribe
88 43 42 79
DTE Ulsa
Hindemaevej 76
5540 Ullerslev
Telefon +45 65 35 12 10
DTE Nielsen & Løjmar
Avedøreholmen 90
2650 Hvidovre
Telefon +45 36 77 20 27
Aven Holmestrand AS
Sørbyveien 17
30 83 Holmestrand, Norge
Telefon +47 33 06 65 60
Aven Rabbalshede AB
Klev 4
457 56, Rabbalshede Sverige
Telefon +46 525 199 00
Røyrås Treindustri AS,
Finslandsveien 692,
4646 Finsland, Norge
telefon +47 38 18 01 51
Aven Holmestrand, Avdeling Solvang
Versvikvegen 6
3937 Porsgrunn, Norge                               
+47 35 93 38 50
Aven Rabbalshede, Afdeling Tidaholm
Nolgårdsgatan
522 30 Tidaholm
+46 525 199 00
Here you'll find your local
branch of DTE.